Newsletter
We will publish a regular Newsletter here on our website to keep you up-dated with developments in our veterinary practice and other news and features that we feel might benefit you.
Do please come back to this page to receive an up-date on what's going on.
25/05/2017- Summer and heatstroke
Beating the heat during the warm summer days is extra tough for dogs because they can only cool themselves by panting and by sweating through their paw pads.
Some dogs are more prone to heatstroke for example short snouted dogs, overweight dogs, long haired, very old or very young and ill dogs.
Animals can sustain brain damage or even die from heatstroke in just 15 minutes. This is why it is so dangerous to leave a dog shut in a car on a warm day. Even if only left for a short period it can be very distressing for a dog as they do not know how long they are going to be left and as they start to become more distressed this can make the situation worse.
What are the signs of heatstroke in dogs?
Profuse salivation
Rapid panting
Rapid pulse
Very red gums /tongue
Lethargy
Lack of co-ordination
Reluctance or inability to rise after falling
Vomiting
Diarrhoea
Loss of consciousness (in extreme cases)
If a dog is in a hot car and they are showing signs of heatstroke call the police as they need to be released as soon as possible.
If you see a dog in a hot car that seems distressed the first point of call will be to try and locate the owner.
First aid for heatstroke
Heatstroke can be fatal and should always be treated as an emergency. Dogs with heatstroke urgently need to have their body temperature lowered gradually.
Move them to a cool shaded area
Offer small amounts of cool water
Fan and douse / spray dog with cool water (use cool not cold to avoid shock)
Continue this until their breathing starts to settle
Tips for keeping your pets safe during the hot weather
Always make sure that your dog is able to move to a cooler ventilated or shaded area. This also goes for rabbits and guinea pigs that are outside in a run during the day!
Never shut your dog in a glass conservatory during the day and make sure all pets always have drinking water available.
To avoid any problems, change the time of day that you walk your dog. Don't take them out at midday when the sun is highest in the sky, as this is the hottest period! Instead, walk them early in the morning or later in the evening when it is cooler.
Try and think about where you are walking your dog.... tarmac surfaces can get very hot if the sun has been on it all day and can be very unpleasant for your dog to walk on.
Use a safe sunscreen on pets with a light coloured nose or light coloured fur on their ears as white eared dogs and cats are much more likely to get sunburnt on these areas which over a period of time can lead to cancers.
07/04/2017- Alabama rot?....or not?!
We have heard a lot recently in the media about the unexplained disease commonly referred to as Alabama rot. It is officially known as cutaneous and renal glomerular vasculopathy. It is a serious disease which has only recently been recognised in dogs in the UK. It causes lesions on the skin and occasionally in the mouth, which can look like bites, sores, wounds or stings. Any age, sex, or breed of dog can be affected and unfortunately some dogs go on to develop life-threatening kidney failure.
CRGV (Alabama rot) is a disease caused by damage to blood vessels of the skin and kidney. It causes tiny blood clots to form in the blood vessels which blocks them and can ultimately lead to damage of the affected tissue. In the skin, this causes ulceration; however, in the kidney it can lead to severe organ dysfunction (kidney failure).
Cases have been reported from across many different counties in the UK, but because the cause of Alabama rot still remains unknown it is very difficult to give specific advice about prevention and at this stage it is not necessary to avoid walking your dog in particular locations.
It is also important to remember that most of the time a skin problem will NOT be Alabama rot however; the lesions can be difficult to distinguish from cuts, wounds, stings or bites, so if in doubt it is always best to seek veterinary advice.
07/04/2017- Should I worry about my dog catching kennel cough?
So what is kennel cough? Kennel cough is a highly contagious respiratory disease which circulates in the dog population. Kennel cough is so named because the infection can spread very quickly among dogs in the close quarters of a kennel or animal shelter. Kennel cough is caused by both bacteria and viruses which cause inflammation of the trachea and bronchi.
How can my dog catch kennel cough? Despite the name, less than half of outbreaks arise in kennels. Your pet can encounter the disease in more common circumstances such as, the park, the street, at dog shows, in training classes.....or anywhere where your dog may meet another dog! It is spread through airborne droplets produced by sneezing and coughing. These agents also spread through contact with contaminated surfaces.
What are the signs?
a strong coarse, dry, hacking cough, often with a "honking" sound - this is the most obvious symptom!
runny nose
sneezing
lethargy
loss of appetite.
low fever
How is it treated? Any dog that is suspected of having kennel cough be isolated from other dogs for 14 days, however they are usually only contagious for the first 7-10 days of illness.
A course of antibiotics can reduce the duration of the disease but symptoms will often still show. Most dogs recover from canine kennel cough within 3-4 weeks. If a dog has a compromised immune system or is extremely young or old, it may take up to 6 weeks for a complete recovery. However, your pet may still be a carrier of the disease several weeks after he has recovered.
Should I vaccinate my dog against it? If you are thinking of putting your dog into a kennel most will insist on a kennel cough vaccination prior to admitting a dog for boarding. This is an additional vaccination to the annual booster injection and needs to be administered by your vet at least 7-10 days prior to going into kennel. Unlike the annual booster which is given by injection the kennel cough vaccination is squirted up the dog's nose!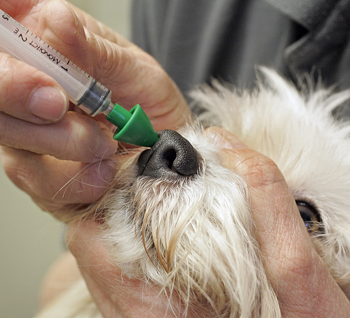 Since the chances of exposure and subsequent infection rise as the dog comes in close proximity with other dogs, the decision to vaccinate or not to vaccinate varies with each individual circumstance. Generally, if your dog is not boarded or going to field trials or dog shows, you may not have a high level of need for vaccinating your dog against Kennel Cough. On the other hand if you plan to board your dog, or protect it from exposure, remember to vaccinate ideally a few weeks prior to potential exposure to allow full protective immunity to build up.
09/02/2017 - Preventing mammary tumours in female dogs
The most common malignant cancer of dogs will affect up to 60% of susceptible animals if no preventative action is taken. Mammary tumours in bitches can be almost entirely prevented by a simple operation at a young age.
Having your bitch spayed (neutered) is a surgical procedure where both the uterus and ovaries are entirely removed. This means there is no chance of these organs ever becoming cancerous.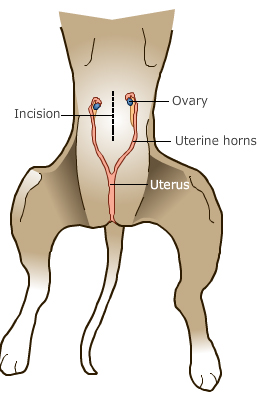 Mammary tumours are caused by the hormonal changes each time a bitch comes into season. Unbelievably a bitch that has had five or more heats is two thousand times more likely to develop this cancer later in life than a bitch spayed before her first heat! Spaying after two heats reduces the risk to one quarter of that of an entire bitch.
In many breeds there is no benefit in your bitch having her first season. It is only Dobermans or Old English Sheepdogs, that should have their first season before being spayed. Researchers have found that letting these two breeds have their first season decreases the risk of incontinence in later life. This is only the case for these 2 breeds.
Female puppies can be spayed from 6 months of age. Their first season will normally occur when they are between 8 and 11 months old. She will come into season approximately every 6 months (twice yearly).
(If you are waiting for your puppy to have her first season then wait 6 weeks after she has finished her season before having her spayed).
As additional advantages, spaying also prevents pyometra (a serious infection of the uterus that is common in older entire bitches), this is a very serious condition, which puts your pet's life at risk and requires emergency surgery. Spaying avoids the mess and inconvenience of heats and any risk of accidental pregnancy. Some bitches will suffer a 'false pregnancy' after being in season, where her body thinks it is pregnant. This can cause mammary development, behavioural changes and even abdominal swelling. This can be stressful for both bitches and owners, and again is something that can be avoided by spaying.
Spaying is an important health benefit to your female dog, and the fewer heats she has had before she is spayed the greater the benefits!
25/8/16 - Jump on board our BRAVECTO BIG FLEA AND TICK SCHEME!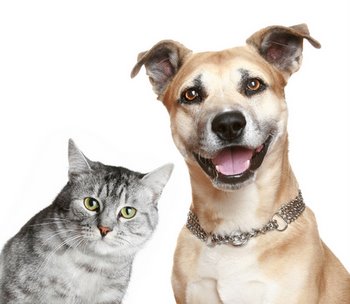 Bravecto is a unique treatment that protects against fleas and ticks for up to 12 weeks. Available as a tablet for dogs and a 'spot on' for cats. Your pet will need a health check by the vet to ensure they are in tip top health before the vet can prescribe this product. Join our Bravecto loyalty scheme...once you have had 3 doses of Bravecto within a 12 month period you can get the 4th dose for free! Call in at the surgery for more information.
22/06/16- Look at what was removed from the thigh of Bruno the Mastiff after his run in with a greenhouse!
Bruno's owners removed this piece of glass (pictured below) from his thigh after he collided with a greenhouse.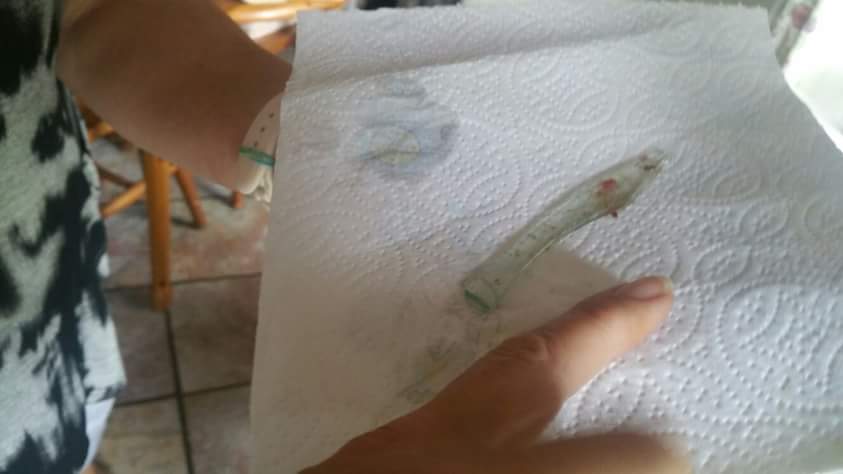 And after having surgery to remove more pieces of glass Bruno's wounds had healed nicely but much to everyone's surprise he was back in 2 weeks later after his owners noticed the edge of a piece of glass poking out from under his skin. He was admitted and this piece of glass below was removed from Bruno's thigh!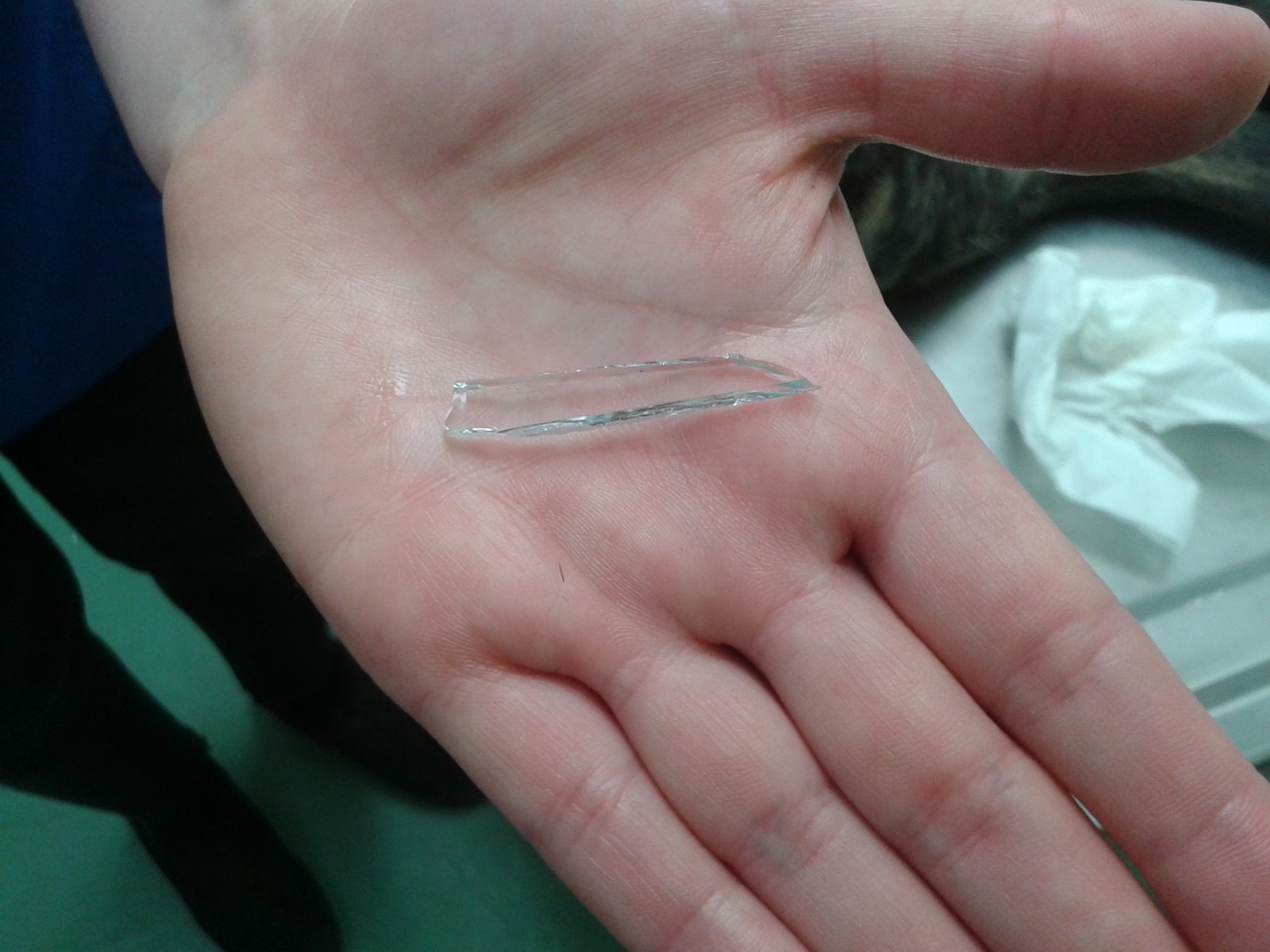 We are pleased to say he didn't let this get him down, he has taken it all in his stride...he's doing well and is such a happy chappy!
02/06/2016- Don't let dental problems send your bunny hopping mad...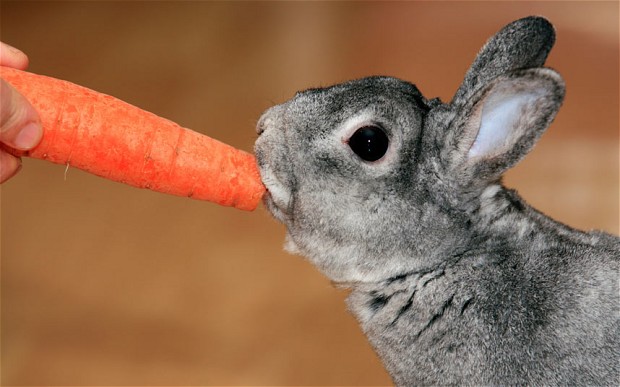 Owning and caring for a rabbit can be great fun and very rewarding, but it is a big responsibility and a long-term commitment, as typically rabbits live between 6-10 years. The biology and behaviour of pet rabbits is very similar to that of wild rabbits. This means they have very complex needs that must be met and often the importance of their diet on their health is overlooked.
Dental problems in both pet rabbits (and guinea pigs) generally develop because they aren't eating enough forage and hay. Rabbits' teeth grow continuously by an amazing 2mm per week so a lack of fibre in the diet means that problems can quickly develop.
Rabbits use their incisors to slice food, and the tongue then moves the food into the mouth. The molars, moving in a lateral arc, grind the food on one side of the jaw at a time. This motion is important for their teeth to retain their proper length, shape, and alignment. When tooth wear is decreased or abnormal, the risk of dental problems such as malocclusion* (where their front incisor teeth fail to meet properly and/or become overgrown) and dental abscesses can develop. This can cause your pet a lot of pain and discomfort and can ultimately lead to death through severe malnutrition.
Rabbits in the wild would be constantly grazing on grass which is naturally-abrasive and fibre-rich which wears down the teeth correctly. Hence wild rabbits do not require dental treatment like many of our domesticated rabbits!
Rabbits and guinea pigs are prey animals so if unwell in the wild means they are more likely to be targeted by a predator, because of this reason they will hide signs of pain or discomfort, and our domesticated pets will do the same. Close monitoring of their behaviour is vital for spotting signs of illness early on which can save your pets life.
If your rabbit or guinea pig shows any signs of dental problems, take them to the vet immediately. Symptoms to look out for include:
Quiet and subdued behaviour,
Reduced grooming/poor coat,
Loss of appetite,
Dropping food
Irregular feeding,
Weight loss,
Dribbling/ wet fur around face and forelimbs (which is a classic sign of malocclusion*),
Weepy eyes
Early treatment by a vet can resolve most dental complaints, but the key to preventing them in the first place is through feeding a healthy diet that is rich in fibre. Grass and hay is the most important part of a rabbits (or guinea pigs) diet and should make up the vast majority of their diet.
If you want to give your friend a tasty treat, keep to root vegetables i.e. carrots, parsnips or dark green vegetables as these will wear the teeth sufficiently unlike many formulated muesli based or pellet rabbit food.
07/07/2016- The importance of vaccination for your rabbit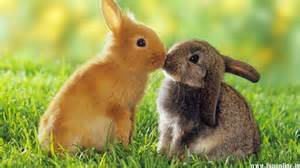 So what should my rabbit be vaccinated against??
Viral/ Rabbit Hemorrhagic Disease (V/RHD) is an infectious viral disease that attacks and causes massive haemorrhaging of the internal organs of rabbits. VHD has a very short incubation period of up to 48 hours.
Symptoms may include a loss of appetite, lethargy, a high fever or spasms but sadly most commonly sudden death. VHD is often a very swift and sudden killer, giving little or no warning. Rabbits may die without showing any symptoms at all. Rabbits who do survive this disease are carriers and shed the virus for at least 42 days after. Unfortunately there is no known cure for VHD.
How it is spread...VHD can be spread via direct contact between rabbits but also via indirect contact by people, rodents, clothing or objects.
Myxomatosis is caused by the myxoma virus, normally the first signs of infection are puffy, fluid filled swellings around the head and face. If left untreated, a rabbit's symptoms will grow progressively worse causing painful skin irritation, lethargy and blindness. Ultimately, a severely infected rabbit will stop eating and drinking and may succumb to secondary lung infection.
How it is spread...Myxomatosis is commonly spread by fleas and other biting insects and but can also be transmitted by direct contact with other infected rabbits.
The virus incubation period may last up to two weeks after infection, so you may notice changes in your rabbit's behaviour or appetite before you notice other signs. Symptoms may appear gradually and can be mistaken for respiratory tract infection, pasteurella or conjunctivitis.

Myxomatosis is not immediately fatal: some rabbits can survive for months whilst infected, but will prove fatal for many within 12 days. Recovery is sometimes possible with intensive care. However, myxomatosis can be a very prolonged and extremely unpleasant disease and euthanasia is generally recommended.
So what CAN we do???....The importance of vaccination...
By vaccinating your rabbit you are giving him/her the best chance of defence against these awful diseases. The vaccination like all vaccines, works by 'teaching' the immune system (the body's natural defences) how to defend itself against a disease. It contains a weakened strain of the myxoma virus which has been genetically modified so that it can produce a protein of the RHD virus. When it is given to rabbits the immune system recognises the myxoma and RHD materials as 'foreign' and makes antibodies against them. In the future, if the rabbits are exposed to any of the viruses, the immune system will be able to respond more quickly.
Rabbits can be vaccinated from 5 weeks of age and protection is key.
25/05/2016- Cat versus human....the battle of giving tablets!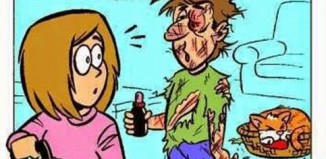 Good news for those of you who have a cunning cat who always seems to win the battle when it comes to you trying to give a worming tablet....as we have a simple way to keep your feline friend flea, tick and worm free. Broadline is a once monthly spot on treatment which helps to protect your cat from all worms, fleas and ticks.Your pet will need a health check by the vet to ensure they are in tip top health before the vet can prescribe this product. Its easy applicator is said to keep treating your cat "stress free". It comes in two sizes and can be used on kittens from 7weeks of age. You can buy an individual dose or they can come in packs of 3.
31/03/2016- Did you know that neutering your kitten can be done from 4 months of age!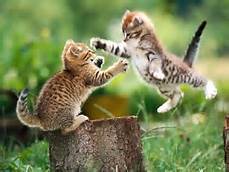 Traditionally neutering cats (that is spaying for a female and castrating for a male) has been done from 6 months of age. But it is now recommended that kittens are neutered at 4 months of age. It is very easy for a female kitten/cat (queen) to get pregnant. Queens are sexually mature from about 4 months of age and come into season every 18 to 21 days (about every 3 weeks) until they become pregnant! The timing of your kittens first season depends on her breed, the time of year that she was born and her individual development. Females can have up to three litters in a year!! (That's a lot of kittens!!)
Ensuring that your male or female cat is neutered will prevent unwanted litters and help remove the problems associated with finding homes or increasing the stray cat population.
As well as preventing unwanted litters there are also health benefits to having your female cat neutered as females which are not neutered are more likely to suffer from pyometra (infection of the womb) later in life. Queens with infectious diseases may pass these on to their kittens and it is also worth remembering that pregnancy and birth are not without risk.
Now onto the boys!!....If you decide not to have your male cat (tom) neutered, there are many risks which will put him in a significant amount of danger. He will wander off to find females and this increases the risk of road traffic accidents. He may also fight with other toms to try and be "top cat" putting him at risk of infected fight wounds and FIV (feline immunodeficiency virus) and FeLV (feline leukaemia virus). Un-neutered male cats will often mark their territory by spraying inside the home, neutering will often stop this problem.
Neutering for cats is a routine operation, which requires a short anaesthetic. Almost all will be able go home later the same day and once home will only need to stay indoors for a couple days following surgery before they will be back to their normal cheeky selves!